MEALS and TUMBLERS can still be purchased until MAY 19!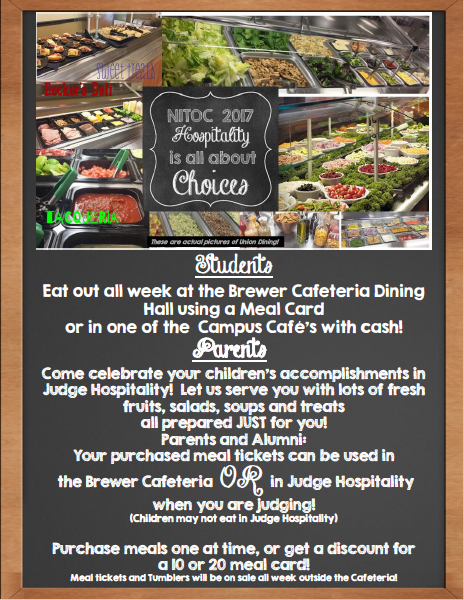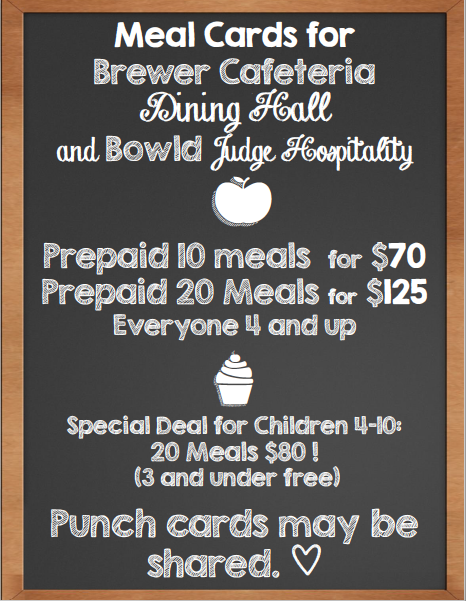 Stoa will be unable to replace meal tickets or tumblers that have been lost.
Treat yourself to the Union hospitality!!!
You'll be treated to on-site, freshly prepared items at every meal, including fresh fruits, vegetables, and soups at our salad bar along with hors d'oeuvres, treats and sweets for the entire week! This is all planned and coordinated with Union staff by our own Janine Wilkins, who prepared our delicious judge hospitality last year. Take the week off cooking and shopping and let's celebrate our children's accomplishments!
Judging with no time to run to the Brewer Dining Room?
Use your meal card in the Judge Hospitality room!
NOTE: Crock pots cannot be brought onto campus unless they are used in the dorm housing.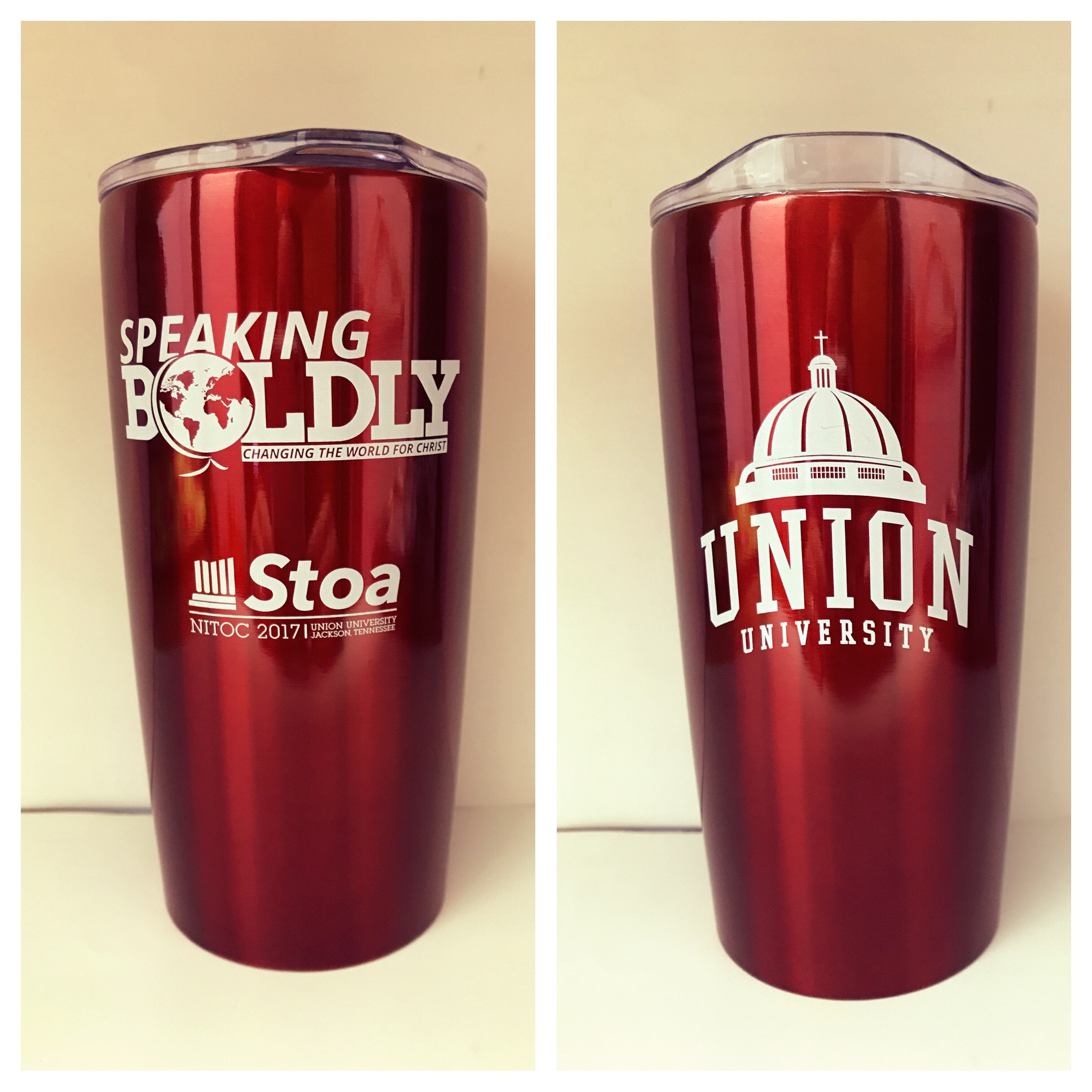 Free Refill Union Stoa Tumbler
Union created these BEAUTIFUL stainless steel tumblers to celebrate Stoa's accomplishments. Aren't they handsome? Additionally, your $10 purchase allows you free refills all week long at the Brewer Dining Hall and The Lex.
Brewer Dining Hall: 2 stations of Coca Cola products, Crystal light/lemonade, sweet tea, unsweet tea, and coffee
The Lex: Sprite, Orange Fanta, Powerade, Hi-C, Diet Coke, Regular Coke, sweet tea (no coffee)
Supplies limited! Order yours today!
Add this tumbler to your meal plan today, and you will receive your tumbler at check-in. https://nitoc2017.homeschooldebate.net/
Union gave me one of these cups earlier this year, and it's my FAVORITE! Easy grip, comfortable lid, keeps my hot drinks hot and my cold drinks cold for a LONG time.-MelRae Ambs
Brewer Dining Hall Times
Sunday May, 28 - Dinner only 5:00pm-7:30pm
Monday, May 29-Saturday June 3
Breakfast - 6:30-8:30
Lunch - 11:00-1:30
Dinner - 4:30-7:00
No meals offered on Sunday, June 4
Brewer Dining Hall Pricing
Buffet-style dining for meal plan participants and pay at the door guests.
Breakfast $5 plus tax (at the door)
Lunch $7.95 plus tax (at the door)
Dinner $7.95 plus tax (at the door)
To go options are available: All to go boxes must be requested upon entrance to the dining hall. If to-go boxes are requested after participants have entered, an additional meal will be deducted from their plan or another meal paid for.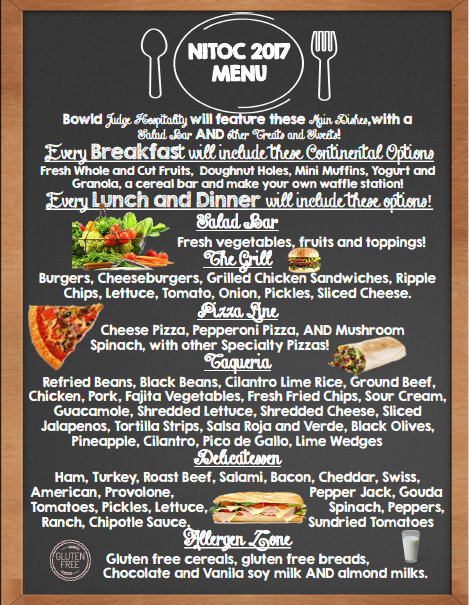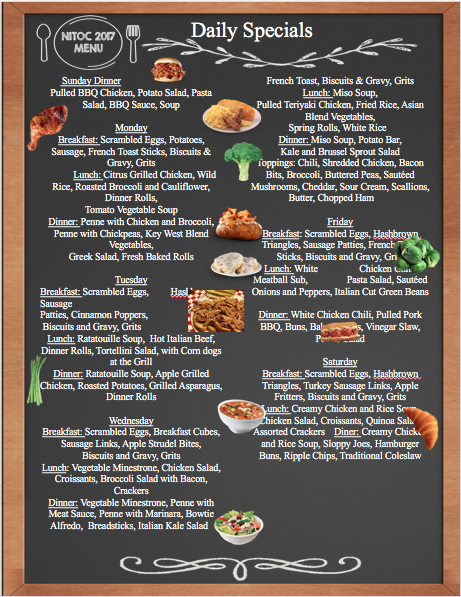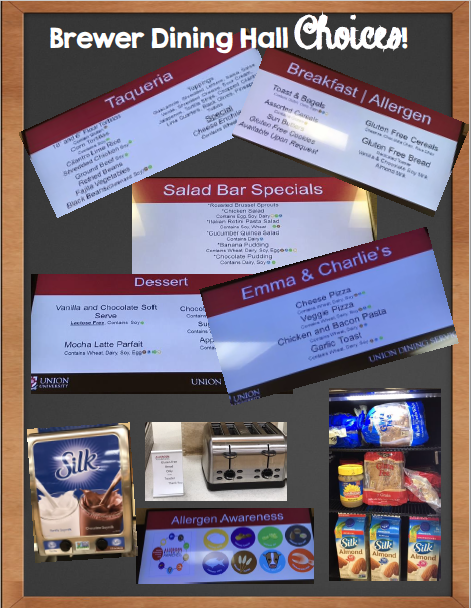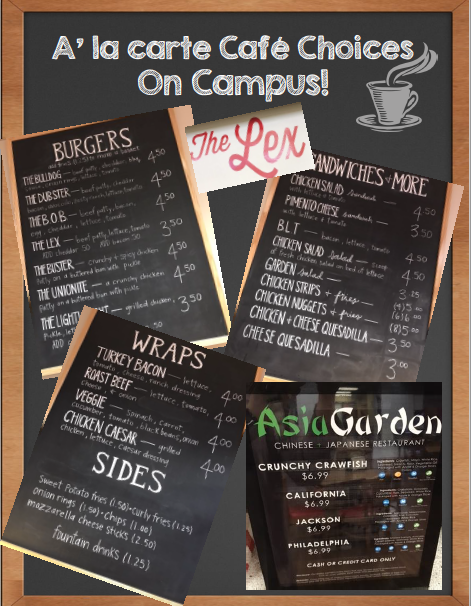 Other options:
Barefoots Joe 7am-9pm
Lex Cafe 10am-9pm
Modero Coffee Shop (within library) 7:30am-5pm
LifeWay Bookstore 9am-9pm every day
Cash and credit card at the standard cafe prices
Add the app to your phone's home screen so that you can come back and check out the menus, specials and more whenever you need!
Students that need to discuss special menus due to medical conditions or food allergies are welcomed to contact our office by email or phone (listed below) to set up a meeting with the Food Service Director and Chef Manager.
We're Here for You -
1050 Union University Drive
Jackson, TN 38305
Office: Jim Erickson (Director)
Phone: Jim 731-661-5420 or Gena 731-661-5945
Email: Jim Erickson
Email: Gena Mandle
Email: Todd Kurtz
Calling All Hospitality and Food Lovers!
Click HERE to serve on the NITOC judge hospitality team!